(solution dedicated also for BMS)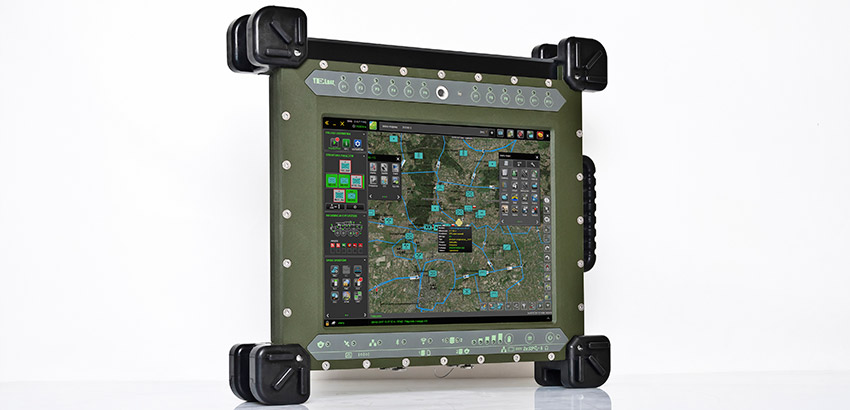 Description
Tactical Terminal Tablet T12" – due to its technical features is one of the most modern and robust in the ICT military world. It is a ruggedized tactical computer dedicated to C4ISR solutions in armed forces or in the different type of public emergency and special services. Tablet can be utilized on-board the vehicle or portable.
Applications of Terminal T12":
workstations in battle vehicles, vessels (submarines and ships) and flying objects;
element of the on-board ICT platform Battle Management System (eg. BMS JASMINE);
Clip-in kit computer;
standalone manpack computer dedicated to dismounted soldier/section (eg. DSS JASMINE) and, to Joint Fires Support (eg. JFSS JASMINE);
dedicated to C3IS JASMINE software in versions: BMS, DSS and JFSS.
Tactical Terminal Tablet T12" is a ruggedized computer designed to operate in harsh military environments (that meets high military standards e.g. anti-shock, climatic and environmental).It ensures to operate in water and is resisted for drops and shocks.
SPECIFICATIONS:
Processor: Intel Core i3/i5/i7, double or quad core;
Memory: DDR3, ECC type, up to 16GB;
Storage: 2 x SSD, replaceable, SATA III, max. 480GB, RAID 0/1;
Internal Display: 12.1" resolution 1024x768 (XGA), work in high sunlight, automatic backlight adjustment (built-in light sensor);
Touch screen: capacitive Multi-Touch, operation in gloves, Anti-Glare screen;
Interfaces: Gigabit Ethernet, 2 x USB 3.0 , RS-232 full standard, DVI, VGA and audio output;
Functional buttons: 12 buttons configurable by User, that allow to define usage scenarios: radio silence, touchscreen blocking, backlight in day/night mode, on-board or battery power supply etc.;
Operational system: Windows 7 (or other);
Basic equipment:

camera video x 2, resolution 13MPX, two sided,
GPS, WiFi 2.4 GHz b/g/n and Bluetooth,
akcelerometer,
magnetometer,
battery 156 Wh,
crypto and SD card reader;

Additional equipment:

Helmet Mounted Display,
headset with ANR,
Power Bank,
Dock Station,
Dedicated cable adapter for external use of e.g. HMD, headset etc;

Terminal dimensions:

330 x 300 x 55 [mm] - without rubber protective corners,
380 x 341 x 75 [mm] - with rubber protective corners;

Dock Station dimensions: