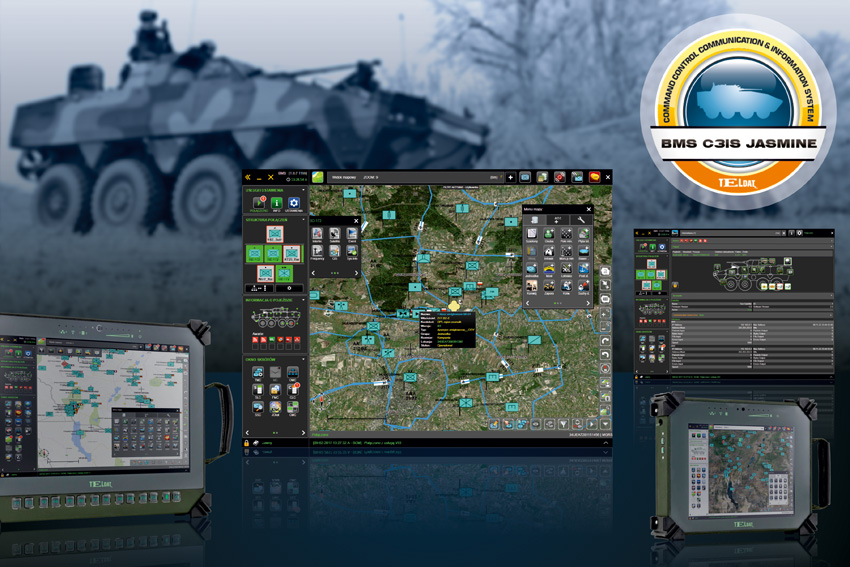 BMS C3IS JASMINE is one of the main software modules of the C3IS JASMINE. This software is a component of the BMS JASMINE, dedicated for use in mobile command systems at the tactical level with the radio communications. It can also operate as a stand-alone solution and it can work independently.
Main features of the BMS C3IS JASMINE:
command support of subdivisions and the cooperation between them by automatic data exchange with HMS (Headquarters Management System) and DSS (Dismounted Soldier System);
achievement the information superiority at tactical level, which allows to create and significant increase of situational awareness of the forces;
current tactical situation picture and BLUE FORCE TRACKING using NFFI (NATO Friendly Force Information - STANAG 5527) and FFI (Friendly Force Identification): IP1, IP2, SIP3 and PROVEN HUB;
interoperability with the coalition C4ISR systems with the use of NATO standards;
automatic operational data exchange;
mission planning, visualization (according to APP-6A/B, MIL 2525B, MIP Implementation Rules) and full support for plans, orders and reports according to STANAG 2014;
sending reports and daily log book;
easy input of data - objects and tactical symbols using joystick and touchable interface;
quick exchange of text messages (CHAT) using a pre-defined reports and templates;
analysis of terrain situation, also using 3D visualization;
analysis and visualization of Fresnel zones (areas of the radio signal) using elevation data, allowing relative location of antennas;
secure exchange information with use of national IP Crypto;
encrypted transmission of voice, data and video;
cooperation with recognition systems;
cooperation with air defense systems;
collaboration with simulation systems (e.g. JCATS, VBS2) via HLA (High Level Architecture) standard;
support for fire targeting systems;
current information from battlefield sensors;
data aggregation and hierarchy;
voice and data recording (storage);
store operational data in a database of the model JC3IEDM of the MIP program (version 3 & 3.1);
replication of MIP data at the tactical level with the use of BRM protocol (Battlefield Replication Mechanism) via radio communication means;
message exchange compliance in standards MIP MEM B2 & B3, ADatP-3 (version 11C/F, 12.2, 13.1 & 14), Link 16 (JREAP C and SIMPLE) and also VMF (Variable Message Format);
communication with soldier using NATO JDSS (Joint Dismounted Soldier System - STANAG 4677);
integration with TELDAT Battlefield Directory services;
possibility to delivery and use of topographic underlays distributed with the WMS (Web Map Service) and WFS (Web Future Service) technologies;
simple - fully automatic, intuitive installation and configuration of BMS C3IS JASMINE through JASMINE Modules Management software;
effective integration of on-board communication;
monitoring of communication devices;
integration and monitoring of the equipment of the combat vehicle, vessel or flying object.
Example screenshots of the BMS C3IS JASMINE software are presented bellow.