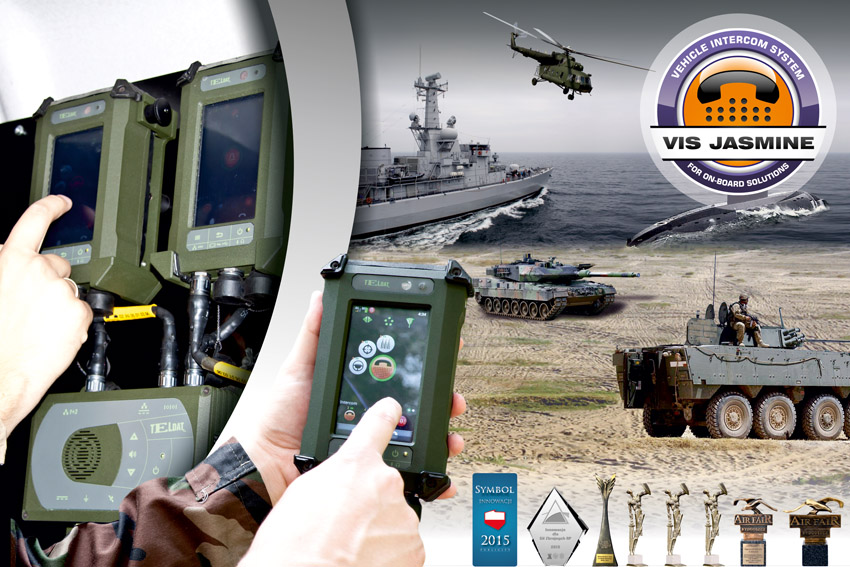 Vehicle Intercom System JASMINE (called VIS JASMINE or VIS) is the basic component of on-board version of the Network Centric Data Communication Platform JASMINE. It is an innovative solution of the new generation SuperINTERCOM, a technologically advanced data communication on-board node, in IPv6 technology. This solution is a network centric multiservice hardware and software platform providing reliable communication and necessary services which enhance in a significant way the crew operations. The system can be used in all types of vehicles (including military), vessels (submarines) as well as in aircraft. VIS JASMINE is a user friendly, mobile solution and has many more functionalities than other similar currently utilized systems. It has an optimal construction that meets the requirements of small dimensions, weight and little power consumption for devices to be used in combat vehicles. VIS devices are made in the latest technology according to military standards within mechanical and climatic resistance. This solution is the new quality in a development of on-board communication systems.
Base on the VIS JASMINE, it is possible to develop a master (BMS - Battlefield Management System for Battalion, Company, Platoon & Section) and slave (DSS - Dismounted Soldier System) systems just like setting up the bricks. To achieve it the VIS JASMINE should be equipped with a suitable software module of C3IS JASMINE: BMS C3IS JASMINE or DSS C3IS JASMINE.
Main features:
modern superINTERCOM in IPv6 technology provides digital processing of speech, guarantees high quality and intelligibility of information inside and outside of the vehicle;
high mobility, small dimensions, low weight, low price, less power consumption with high system performance in relation to currently existing similar systems;
optimal cooperation with radio communication means (e.g. WiFi, radio and satellite), possibility to operate in a remote location (outside the vehicle) without additional devices;
easy and effective integration of all spectrum effectors and sensors;
reliability provided by the modular structure of the system, the key functionalities realized by selected modules;
individual volume control for each crew member;
active noise reduction;
simple and intuitive operation and configuration, similar to the smartphone type devices;
cooperation with C3IS JASMINE system and other C4ISR systems;
VIS Terminals simultaneously provide: voice, data, alarms, use of C3IS JASMINE (DSS C3IS JASMINE dedicated for soldier) or other specialized software, including commercial (e.g. navigation);
different operating systems;
ability to install the VIS software on any device (e.g. smartphone) and connection to the system via a wireless network;
up to 6 on-board radios in the single VIS system;
communication by selected radio or a few radios;
VIS Terminals provides a wide scope of functionalities: GPS, magnetometer, accelerometer, backlight and temperature sensor, video camera, built-in battery, interface for external sensors, auto-selection of network connection (wired or wireless);
signals and responses to threats (alarms, sensors and effectors) displayed and reproduced in the VIS Terminals and transferred to, e.g. BMS (Battlefield Management System);
defining and operation of alarms associated with any number of physical sensors and effectors;
synthesizing of alarm messages and ability to define your own;
integration with all types of geo positioning systems (e.g. GPS);
dissemination of internal information via different ways, also through loud-speakers;
simultaneous usage of few channels controlled by VIS Terminal and PTT buttons (Push-To-Talk);
voice calls in VoIP technology, also with the application of SIP protocol;
calls recording in VIS system (all calls to the central unit WAN Access Box and individually for each VIS Terminal);
reliability of operation guaranteed by automatic diagnosis VIS, monitoring of all devices and warnings of possible faults;
energy management depending on power supply source and currently used functions;
friendly usage;
visualization of the status of internal and external communications;
scalable number of users connected to the system;
dedicated interfaces ensuring a reliable operation of the system in combat vehicles, e.g. for connections between a tower and a chassis by sliding connector;
full compliance with the Polish military standards within mechanical and climatic resistance as well as electromagnetic compatibility requirements:

the devices of VIS system meet the Polish military standard NO-06-A101 and NO-06-A103 (groups of devices: N.11-O-II-A/B, N.12-O-II-A/B and N.14-O-II-A/B),
permissible level of side emission and electromagnetic immunity are fulfilled in accordance with Polish military standard NO-06-A200;

tempest standards available on Client's requirement.
The substantial hardware elements of the VIS JASMINE devices are presented below.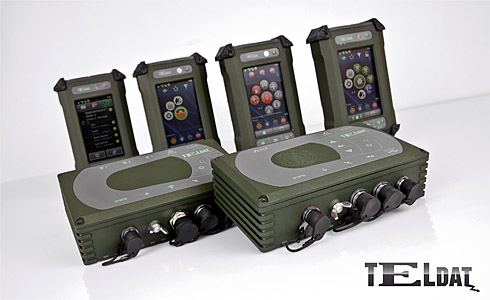 Examples of use of the VIS JASMINE, including variants of the implementation of this solution on the different vehicles, show the following diagram and the other illustrations.
VIS JASMINE was many times awarded:
The Republic of Poland President's Award, which is granted annually for the best product, which improves level of safety of soldiers of the Polish Armed Forces - integration of Automatic Indicator of Contamination PROMETHEUS with JASMINE - System of the Systems (including Vehicle Intercom System VIS JASMINE) obtained at the International Defence Industry Exhibition MSPO 2014 in Kielce;
DEFENDER for the Mobile Data Communication Node, awarded during the International Defence Industry Exhibition 2015. This vehicle has also VIS JASMINE;
DEFENDER, awarded for the Integrated Information System WTS during the International Defence Industry Exhibition 2013. VIS JASMINE solutions were also one of the main components;
DEFENDER for the ATENA II vehicle, awarded during the International Defence Industry Exhibition 2013. Vehicle has also BMS JASMINE, including its intercom - VIS JASMINE;
AIR FAIR 2013 for innovative VIS JASMINE including tactical terminals with BMS C3IS JASMINE software.