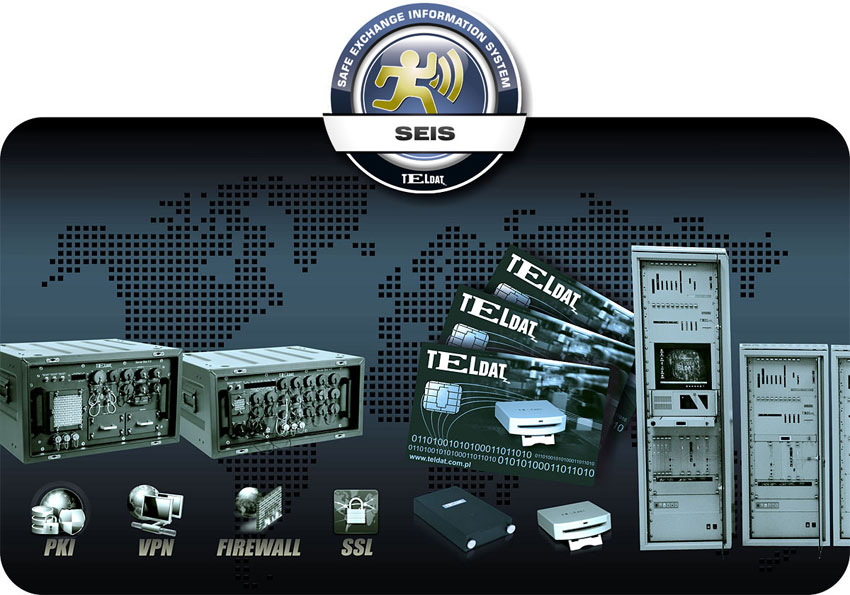 Secure Exchange Information System (SEIS) is the only such a solution in Poland, mature and systematically developed solution, constituting a distributed collection of specialized software and hardware products. It is designed to fast and secure information exchange in order to trigger the necessary actions and operations in the area of national defense and/or crisis management in governmental organizations. The system is successfully exploited in a continuous mode in Polish governmental institutions since 2004 and their subjected units including Ministry of Defense under the name SARON. The solution is especially dedicated to automatic data exchange (also between officers on duty) including: group alerting and reporting (e.g. current threats). It provides reports about actions and operations. The product exactly fits into the requirements of recently created Territorial Defense structures and other entities and institutions of public sector i.a. crisis management staff: police, fire guard, border guard etc. In fact, it complements the ready-made national solutions of the Network Centric Data Communication Platform JASMINE (JASMINE) and Integrated Data Communication Node KTSA.
Main features:
ensures efficient transmission of important information (exceptionally specialized alarm signals, various types of notifications about threats, commands, reports, etc.) to selected recipients (structures, units and their on-duty services, as well as, if necessary, population), practically to any place of their current location;
significantly increases the security of civil population and governmental organizations structures including single units and their officers thorough: immediate distribution information about threats, providing effective support for needy including evacuation;
ensures an exchange of information as follows;

in hierarchical, determined structure of Computer Terminals in existing ICT network,
in strictly defined groups of subscribers of phone network (including mobile);

provides high level of processing security and transfer of information if necessary classified through an application of proper encryption mechanism, authentication and access control in IT networks (e.g. infrastructure of public key PKI, VPN, IPSec and TLS/SSL);
the most modern transfer of information, voice and video technologies (IP and VoIP) and automated replication services and mechanisms and data archiving for the entire system;
ensures cooperation with all communication media e.g. internet, GSM networks, PSTN networks and VoIP in the transmission of e-mail, voice and text messages SMS;
enables effective customization according to specific and requirements of customer also an integration with the existing command and communication systems e.g. C3IS JASMINE which software of Headquarters Management System for Corps, Division, Brigade & Regiment - HMS C3IS JASMINE is implemented in Polish Armed Forces and effectively used. Its selected components (Crisis Management System JASMINE - CMS JASMINE) can additionally enhance crisis management;
ensures remote management of all elements of the system and also the monitoring of its operation.
Software and hardware infrastructure components:
specialized software (management, server and client) - basic component of the system designed for all command and communication operational levels. The software can be adjusted to organizational structures. It is composed of: IAS - network alerting module, IAT - phone alerting module, ZS - system management module;
Computer Terminals supporting software modules for end users;
Wide Area Network (WAN) - the platform for information exchange with the opportunity to process classified information. If necessary the network can be developed based on Integrated Data Communication Nodes: ZWT KTSA - in stationary and JASMINE - mobile version
The SEIS system is composed of the following software modules:
Structure and run of information (including alarming and reporting) in the SEIS system are presented in the below diagram.