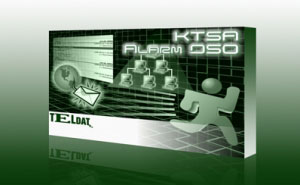 Instant Messaging & Alarming Module (IMA) has the following software:
KTSA DSO (IMA) Alarm - application installed and operated by the User on DSO (IMA) dispatch terminal;
DSO (IMA) Server - server software, constituting the main database platform for DSO (IMA - Instant Messaging & Alarming Module) and SZ (SM - System Management Module) software modules.
The module enables using, created by means of SZ (SM) module, posts hierarchy, along with their predifined Users and assigned dispatch terminals. The main tasks of the Users include defining alarm signals and sending them as well as generating feedback signals i.e. reports (replies).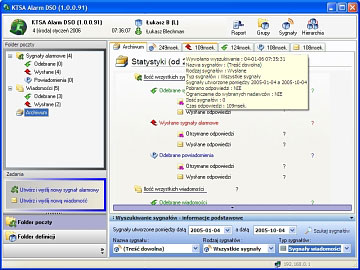 Instant Messaging & Alarming Module (IMA) main features:
uses existing WAN network for sending alarm signals and information (messages, reports, etc.);
provides data on:

system Users,
defined signals for a workstation,
posts (dispatch terminals), their hierarchy, location, etc.,
sent signal history (alarm signals, messages and answers):

local date of signal activity up to 3 months ago,
remote (downloaded from server) all archival signals from a workstation;

enables data visualization: post hierarchy, signals, statistics etc;
sending any kind of file;
distributing formated ADatP-3 messages;
sending battle situations for C3IS JASMINE.