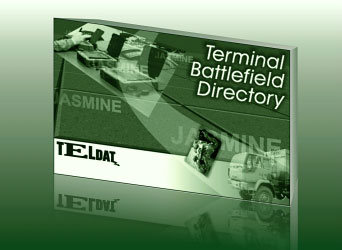 The TELDAT Battlefield Directory is a part of JASMINE Management System. This is a software providing basically: directory services containing such objects like the list of Users, applications, devices and other network resources.
The directory service is ensuring one logical and precise manner of the description of all devices and network services. It is organizing hierarchically network files as follows: Users, devices, operational groups, network services, file servers, database servers, objects on a catalogue tree.
The TELDAT Battlefield Directory enables to provide data for applications with the use of the protocol of LDAPv3 encoded with the use of TLS. It can be used by many e-mail clients (MS Outlook, Outlook Express and Mozilla Thunderbird) as a address book.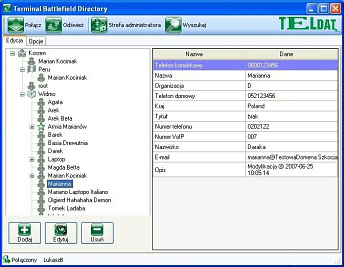 The main advantage of the The TELDAT Battlefield Directory is a possibility of building of universal base for needs of actions are to be conducted and more over automatic and safe access to data of directory by new Users in every conditions.
Based on the computers of the system constituting the JASMINE equipment database platform providing with directory services it is possible to conduct actions on the tactical and operational level.